Slither.io AI
(artificial intelligence)
is a bot or a type of character that lets players control their snakes more easily and avoid crashing with the snakes of other players.
Slither.io AI
is also known as Slither.io Bot. It is a type of character that can play a major role in the game, particularly when a player is offline. The character is referred to as AI or Artificial Intelligence, given that it can help players to control the snake in its entirety and avoid crashing into the snakes of other players. Find out how it works.
Allows Offline Playing
This is a new mode that lets players indulge in offline playing against players, in the absence of a solid internet connection. These can automatically satisfy all the actions of players, and can save their concerns about the fate of their snake without their own participation.
Slither.io
players who join in the game can have a clearer understanding about the bots.
The
slither.io bot
can be controlled, although not every time. It can act slightly 'stupid' at times. However, its chief aim is to change the direction of your snake based on perceived threats and eat food that is shown on the map symbolized by colored dots. It also strives to avoid the snakes of other players from running into the body of your snake, so that there is no premature stop to the game and players can win with relative ease.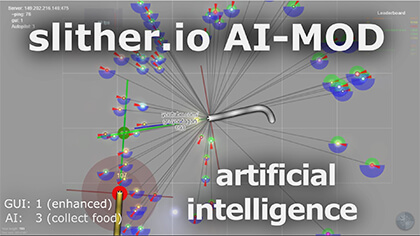 Slither.io AI Comes with Wide Range of Features
The game comes with a wide variety of features, which can make the entire playing experience better. Players can change the background color; unlock the skins free of cost, press on the T button to toggle the bot and more.
Players can enjoy the game on mobile platforms as well as on PCs. The AI can work on iOS as well as Android platforms where the game can be played on.
Works with Simple Rules
The
Slither.io AI
works on simple rules, which can be categorized into two sections:
Avoiding collisions – When the bot senses any other snake in a circle as specified by a static parameter, it makes the snake turn in another direction in order to prevent collision.
Finding foods – It is actually about locating the closest source of food and moving towards the same.
However, the AI that is based on rules cannot replicate the intelligence of actual human players. This is because others snakes that use the same AI can destroy your snakes as well. If the circle of snakes is bigger than the rule-based AI threshold, the AI will not show any response to that action.